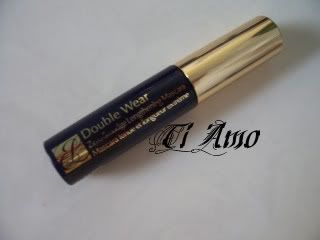 (please note, this is not a full sized product, but rather a sample).
Someone gave me this sample of Doublewear mascara quite awhile ago, but I only just pulled it out to use. After a week or so of testing, I'm ready to write a review.
Doublewear is touted to be a lengthening and no smudge mascara. The full size version of this product retails for 19.50$ USD and comes in black or brown.
How did it do? It started out pretty well, if boring. This is a definite 'natural' mascara--meaning that I'd recommend this to anyone who didn't want anything dramatic. It did lengthen, as you will see in the following pictures, but people who saw an eye makeup look with this mascara said: I think adding mascara would make this look more glamorous! Ouch!
Estee Lauder claims this mascara creates 'extraordinary length' that will last the whole day. It doesn't "wilt" as some mascaras can, but you have to keep your eyes open for a bit longer than I'm used to while waiting for this mascara to dry. It also doesn't create EXTRAordinary length, but just a little bit longer.
This doesn't make my lashes feel stiff, more feathery. Its a very gentle formula, especially when taking it off. It came off almost like a tube mascara! You just need a bit of cleanser and water and rub and most of it should come off. It's not exactly waterproof in that regard, but should hold up to a light drizzle of rain.
The pigment on this mascara is sort of dull. It claims to be glossy and rich in pigment, but falls flat on both accounts. Definitely not the darkest mascara out there! I can never tell the difference between a mascara that claims to be glossy and one that doesn't either, to be honest.
Doublewear's wand is small and skinny, with dense bristles as pictured below. I can't really get to the inner or outer corners of my eyes but that's okay because I don't look for that in a mascara.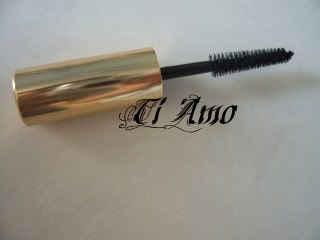 Natural eye:
Doublewear'ed eye: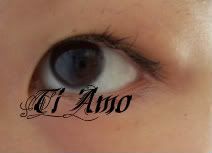 I will continue to use this, but only because I don't really want to waste it. It'll be a nice change from the harsh waterproof [yet dramatic] mascara that I'm currently using, but I certainly won't be dropping 20 bucks on it. Mediocre at its best.