I won her back to school giveaway! & I want to share with you all because...she is such a sweet person and operates a very lovely beauty blog! I highly suggest you go over and take a look-see if you can!
What I won:
Paul & Joe summer 2009 Gold bronzer in 01 Deity
China Glaze Nailpolish in Strawberry Fields.
Marbled (baked) blush from Second Love in Sunset.
Manglaze Nailpolish in The Death Tar
theme fragances in Sarong...roller
mini opi polish [unknown..supposed to be here today aragon tomorrow but doesn't look green?]
Illamasqua [!!!!!!!!!!! SOO EXCITED!] eyeshadow in Cry [pink]
Amuse l/s and liner mini duo in F4
7 Meow cosmetics loose e/s samples
Lotree nude lip color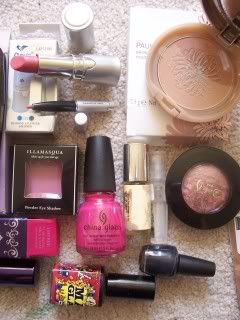 I swear I will take better pics for a review :) Anyways, I'm quite excited to use it all, especially the Manglaze nail polish, Illamasqua eyeshadow and P & J bronzer!! What reviews are you looking forward to?