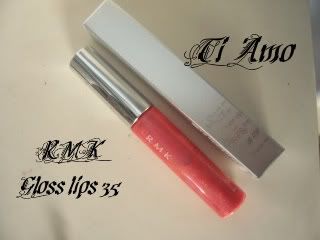 This review has been a long time coming!! :X Sorry! But I've finally gotten around to it, so let's begin.
When I was in Tokyo's Narita Airport, I was wandering around the duty free and came upon RMK gloss lips. I had been meaning to check it out while in Taiwan, but the counters were always missing testers and they never had a GWP to tempt me with. But now, seeing the range in the duty free section, I immediately wandered over to see the colors.
I have been wanting a pink gloss for awhile now, and since I had heard Gloss Lips are sheer I tried to pick up a darker color. I ended up with 35, a color from the Spring collection [full name 35 Translucent Shiny Pink]. It's indeed pretty and totally lives up to its name.
Here's a terrible picture of how it looks on lips [it actually doesn't look so peach, more pink and MUCH shinier, like a mirror shine]. I bought this gloss duty free for 20USD.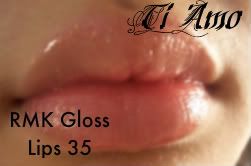 Anyways, more about the gloss. It comes in a nicely sized tube with a silver handle/wand that looks very classy. You get 6.8 grams for your money, but wait! Look! I've used this about 3-4x and the product level has already gone down!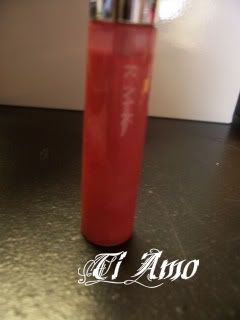 As much as I hate how the product gets used up so quickly, I LOVE the super shine. [I wish I could post a pic, but they won't come out right! FuzKittie has some pics of Gloss Lips on her lips if you want to get an idea :)].
This isn't really pigmented at all! It's definetly just for the shine. It gives only a bit of color, which is to be expected considering that the Japanese favor that kind of light translucent look. The formula is also sort of slick, not too tacky and thick like MAC's but it does last awhile.
Last of all, I LOVE the brush! It's such a nice applicator, I think Western brands should definetly adopt it [Bobbi Brown, this is what your brush should look like, thanks :D]. It's not too stiff, flexible enough to deposit enough color and to get it everywhere you want.
I would love this even more if there were a bit more pigmentation, but I like it alright. Would I rebuy it? Probably not. It's a great gloss, but not for this pigmented lip'ed girl.
Your thoughts?