Another review that is long overdue! So...MAC Euristocrats. The original collection launched in 2008 [spring] in Europe, Asia, everywhere except North America. That collection consisted of many more lipsticks than were released in the Euristocrats 2 collection that was launched in the US a year later [July]. But anyways, I ended up finding these two lipsticks in Taiwan [along with Milan Mode, that I wanted but decided to save for 'next time'] and pounced.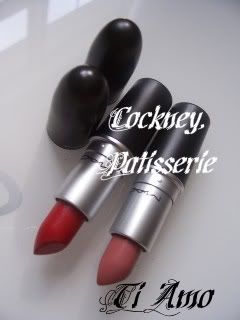 Pretty, eh? Cockney is the warm red and Patisserie is the pinky peach color. They are both lustres and have cute 'European names'--Cockney is the name of an accent in Great Britain and Patisserie is like a French bakery that specializes in desserts and sweets. Yum!
'Kay anyways, back to the colors....
MAC lipstick are not known to be moisturizing. But who honestly cares that much when you can use a balm underneath? And even though these are lustres, I find them nicely pigmented [I own mostly lustres out of all MAC l/s!].
Possible dupes:
Patisserie is by no means unique, just very pretty. I'm sure you could find many of these sort of colors, but I don't know one off the top of my head.
I hear that Cockney has a dupe in the permanent MAC line--Ladybug, but I can't confirm this.
Cockney compared with Port Red: Sheerer, more wearable and more warm/orange. Love!
Once applied, Cockney goes on quite red. You need to be careful in applying it, like all reds. It's a translucent look, but I'm still not quite that comfortable wearing it out. Will have to play with it more...
Patisserie is one of my new favorites. It's like a my lip but better nude/peachy color and so easy to swipe on. Only problem is, it's a bit sheer so I need an extra layer to cover my pigmented lips.
Anyways, I give these Euristocrats lipsticks thumbs up and I have my eye on Rue D'bois, Milan Mode and London Life next!