The title of this post doesn't seem to make sense hm? Don't worry, I hope to explain that very soon.
This, is MAC Volcanic Ash Exfoliator. Before this little experimental revival [courtesy of Alyheartsyou on MakeupAlley], it was plain thick black liquid. All the scrubbies had disappeared! [Please take this as a warning that if you buy VAE this time around, don't keep it in the shower! I suspect the heat and humidity had melted them].
Of course, when I discovered this, I freaked out and posted on Makeupalley about this. Well, Aly calmed me down when she said that I could simply add sugar to the exoliator and stir it with a toothpick, because that's what the original scrub particles had been made of.
Guess what? She was right! Simply add sugar until it gets to be that thick and 'rough' consistency--it'll be the sugar particles that you see
[here's a more accurate spi
Be warned, don't add too much sugar! Remember that it will settle at the bottom of the jar! I forgot this and ended up with quite alot of sugar at the bottom and the liquid almost overflowing--oops. :X. At least I won't have to worry about the scrubbies being melted for a long time!
And voila!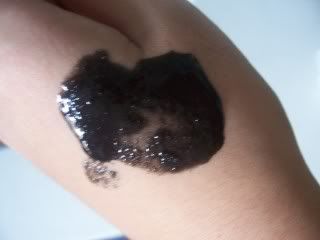 Has anyone else had this happen to your VAE? Will you be buying one this September 24th?