What Stila Says:
"Obsessed for Smudge Pots? You'll go crazy for Smudge Sticks! This highly pigmented, waterproof eye liner glides on to deliver intense, vibrant color with staying power.
These easy to apply, eye liners have it all:
* Long Lasting
* Waterproof
* Easy to apply
* Several shimmer intense shades to make eyes stand out
* Vibrant colors
* Self sharpening propel pencil
Shades:
stingray- Black
lionfish- Brown with Shimmer
purple tang- Purple with Shimmer
moray- Olive with Shimmer
koi- Metallic Gold
silverdollar- Metallic Silver
peacock- Cobalt Blue
blue ribbon- Navy Grey"
(Source)
Lets see. We'll go through this one by one.
Long lasting?
Yes, they lasted on my hand through a nap and halfway through a shower (Will elaborate on this later).
Easy to apply?
Yes, these are incredibly creamy and set within 15 seconds.
Shimmery, intense, vibrant shades? CHECK! LOVE these colors!
Waterproof?
Erm. Remember when I said halfway through a shower? They began fading once the hot water spattered on my hand and when I rubbed lightly, they disappeared even more and were completely gone with one good rub. Now, I realize that Stila doesn't claim these to be rub proof, but the colors lose their vibrant shades once the water hit the swatches. I don't recommend that you wear these to the beach.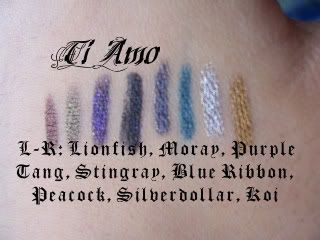 stingray
- Black. This seemed more of a satin black than a matte black--its got a bit of a sheen.
lionfish
- This looks cool in the photos but its really more of a dark brown brown with golden undertones. Seems to be metallic rather than with shimmer.
purple tang
- SO GORGEOUS. Deep metallic blue purple.
moray
- Olive, there's really nothing more to it. Pretty shade.
koi
- This is a very brassy gold...However, this and Silver Dollar are much more metallic than the others.
silverdollar
- Pure silver.
peacock
- Not really what I'd call 'cobalt blue', I think its more teal. Also a little more matte and satiny than metallic.
blue ribbon
- Murky middle blue-grey. Also very pretty!