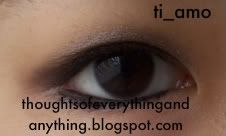 What I used:
shu uemura cream e/s p taupe,
Bobbi Brown black ink gel liner
shu uemura me850 [inner half only]
What do you think? I'm on the fence about the cream e/s, took a fluffy brush and a bit more of product than I was happy with to get it nicely dark. I hope I'm not boring you all with all this smokey and neutral EOTDS!