(image from sephora)
Aqua creams were the biggest craze this summer, setting off launches of other cream shadows from many brands. Cream shadows in pots were around before, though....so why all the hype for Aqua Cream?
Its the intense colors, budge-proof and waterproof-ness, the ability to be used for eyes cheeks or lips depending on the color all packaged in a little plastic pot for 22USD$. (0.21 oz).
For reference, Shiseido Hydropowders are 25$ for .21 oz and MAC Paint pots are 16.50 for .17 oz.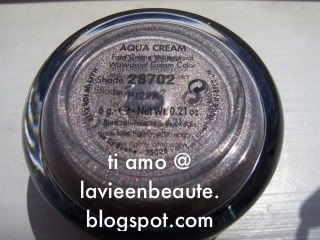 Something to note: Make up for ever doesn't seem to name these shades, instead calling them 01-22. Sephora seems to be the one who names them [02 Steel]. Names seem to be on the box and not the product itself.
Anyways, MUFE says this about the Aqua Creams:
What it is:
An ultra-pigmented, long-lasting waterproof cream.

What it does:
Aqua Cream combines the highest-quality pigments with mother of pearl particles to give immediate rich color payoff with a luminous finish in just one application. It's long-lasting formulation will not crease or smudge under the most extreme conditions and its creamy and elastic texture allows for easy blending.
Exclusively carried by Sephora.

What else you need to know:
Available in shades ranging from soft neutrals to pure bright tones, you can find the perfect color for any purpose.
Shades #5, 6, 7, 8, 9, 10 are formulated for the Lips & Cheeks.
Shades #1, 2, 3, 4, 11, 12, 13, 14, 15, 16, 17, 18, 20, 21, and 22 are formulated for the Eyes & Cheeks.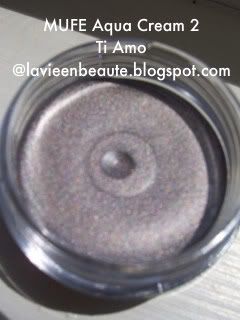 The Aqua creams are indeed very pigmented and creamy. I chose the shade 02 Steel, because its such a gorgeous taupey color.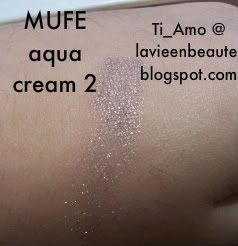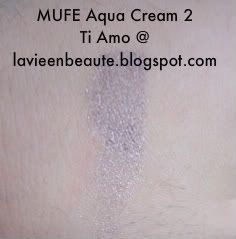 You will be tempted to rub your finger in it alot but don't! It's too pigmented and will go on thickly if you do. These dry very quickly and thin layers are better if you want to deepen the intensity. As for fingers vs. brushes on these, I use a brush because they dry too quickly for my finger to blend properly (coming from a girl who ALWAYS uses fingers!)
Do these smudge? Hold up in the hot sweaty Chicago summer? Crease?
No, they don't smudge. They're pretty waterproof as well [Waterproof assuming you don't keep rubbing your eyes]. However...they do crease on me after about 8 hours.
However, at the time in question it had been an extremely hot humid day [in the 90s] and I had been outside for 6 of the 8 hours, sweating.
On a normal day, 6 hours, it's perfectly fine and it lasts until I take it off with cleansing oil.
Layering other eyeshadows over it is no problem and it doesn't crease with the powder over it after a school/work day either.
I know some bloggers have been experimenting with it as eyeliner but this particular shade isn't really dark enough to define effectively. I did try it on my lower lashline but it takes a lot of layering for this shade to show up and it was hard to tell whether I still had it on an hour later. Perhaps with a darker more vibrant shade it'd be more effective.
Aqua Creams were created for use with each other but I don't know if you'd use a bright grassy green or crimson very often. Even though they have those intense colors though they also have a nice selection of neutrals.
All in all, I'd recommend these for anyone looking for a stay put eyeshadow! Click
here
for the link to Sephora. I think I have my eye on 8 Red, 20 Intense Blue, and 15 Taupe next!
The packaging looks nice and utilitarian but my main gripe with it is that its plastic. I don't have a great experience with plastic pots as I find they usually crack easily; I would have much preferred glass.