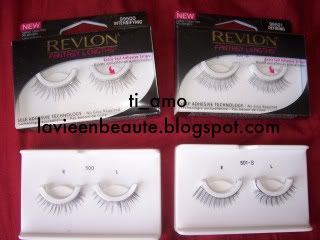 I tweeted that this review was long overdue--and it is! Revlon sent me these LAST OCTOBER for review! But I wanted to review them thoroughly, and that meant extensive testing--for a girl who really doesn't have much occasion to wear false eyelashes. HOWEVER..here we are!
Revlon says:


"Revlon Fantasy Lengths Maximum Wear eyelashes are a revolutionary way to go from Plain Jane to Naturally Fantastic instantly. Without messy glue to fumble with-you can have perfect lashes that stay where you want them to- even in water!

To remove: Use oil based eye makeup remover to gently peel off and remove. Wash with water to remove excess glue on eyelid."
(Note: I don't think that's necessary for the self adhesive lashes, probably from their regular line of false eyelashes)
Ingredients:

Adhesive: terpene resin, styrene-Isoprene Copolymer, Petroleum oil, Isobutylene-Butene Copolymer, Microcrystalline Wax, Hydrocarbon Resin, Styrene-Ethylene-Butylene-Styrene Copolymer

Lash: polyvinyl chloride, polyester thread, coated polyester flake"


My own false eyelashes experience is literally zero. Before these, I'd never tried them before so please keep that in mind when reading the review!
Revlon sent me 2 styles: Defining (Lashes roughly the same length) and Intensifying (Alternating shorter and longer lengths).
Defining:
Intensifying:
What comes in the box...the plastic thing is for pressing the lashes closer to your eyelid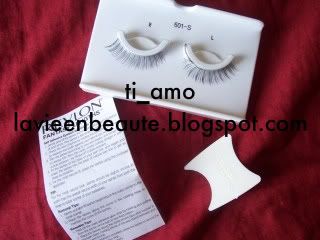 It also comes with a 2nd line thingy (I don't know how to get technical here) so when the first adhesive starts wearing out, you can peel it off the actual lashes and put on the 2nd. And when the 2nd wears out, you can use it as normal false eyelashes..if they aren't too grimy by then haha)
Anyways, I can wear these for about 3x each self adhesive 'band' before they lose their sticky ness. I really like these! It's really as simple as pushing them in place, no glue (obviously) needed. Revlon really hit the nail on the head with these.
I don't know if they last through water as I didn't exactly go swimming with them on but they didn't wilt through a light rain.
Defining lashes are sold for
5.48$
on Amazon, so at drugstores I'd assume around 6$.
*
disclaimer: Revlon representatives sent these to me for consideration only. Please refer to my disclaimer for more information.