*Note: Insta-Dry is the triangular shaped bottles that are about 3-4$ for 0.31 oz / 9.17 ml*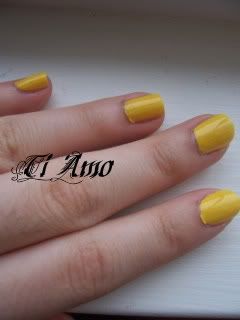 Bright yellow nail polish--my fav. Got nothin' much to add after that.
Anyways I bought this because it looked close to Essie's Shorty Pants (my all time favorite yellow, because I'm very picky when it comes to yellow. It is though, streaky. Unfortunately.)
It's not close. This is more golden, Shorty Pants is more of hat I'd consider a true yellow.
But the formula on this one kicks Essie's butt. Doesn't chip after 3 days (doesn't sound like much, but for a yellow, its pretty good!), whereas Essie's can chip as soon as a day. (It still chips faster than I'd like, especially when I'm used to China Glaze & OPI but I'll take it) The wider brush took some getting used to for me (probably because my actual nails are quite small) and I'm very used to the thinner brushes of China Glaze & Essie. This actually could have been a one coater polish, albeit a medium thick coat. It's great.
All in all a really nice yellow polish!