So I'd convinced myself that I didn't need So Ceylon MSF...umm, well, turns out I was wrong! Dang. I'll have to go next time, as I passed it up before.
On that note, Petticoat and So Ceylon are absolutely *delicious*! So is Stark Naked BPB, which is just SO BUTTERY!!! I'm definetly getting more of these at my CCO (cosmetics company outlet, where they sell Estee Lauder brands 30% off.)
Pics!!
Petticoat and Stark Naked
Petticoat (L) Light flush (R)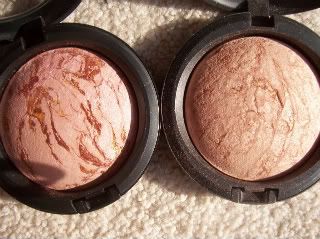 Apart from these, and So Ceylon, both Sheer Minerals and Red She Said disappointed me. How about you?