While I was in Madison, WI, I had to go and check out the outlets for any good finds of course! There were loads of good stuff; this is what I saw:
MAC:
Tinted lip conditioners (pot and tube), assorted, (4+)
Lure packaging dark wine color lipsticks
3 Neo sci fi lipsticks, sci-fi-delity, beige and brown
Flowerplay, SO many lipsticks!!!
Lots of assorted mostly red slimshines and mattenes
Venetian lipglass
Lots of 3D and varnish and lacquers
2007 holiday lip sets 2, pinks and beiges
Colorforms red and blue lip palettes
3 Fafi dolls
Fafi eye palettes 1 and 2
2007 holiday smokey, intense (? Maybe it was warm) and cool eyes
Sweetness, Strada, 5-6 other blushes
Moonbathe blushes (both of them)
Neo sci fi blushes (both)
Loose beauty powder (4, natural flare among them)
4 sculpt and shape, the very lightest and darkest among them
Ostentatious, Nightfish, Brassy and Sweet Sage fluidlines
Assorted bags
Eyeshadows: Flashtrack, all 3 Mcqueen shadows, bark, copperplate, MANCATCHER!!! Sea myth, black tied (lure packaging), the other light green Lure shadow, carbon, time & space, evening aura, saturnal, claire de lune, another Moonbathe shadow, Velvet moss, chill, rose blanc, mossglower, gesso, jewel blue (5-6 more!!)
Pigments: Accent Red, viz a violet, tea time, cornflower, jardin aires, helium, dark soul, gilded green, sweet sienna, your ladyship, naked, fairy lite, gold stroke, gold mode, rose, 3-5 more permanent pigments
Take Wing 4 eyes quad
Bobbi Brown:
LOADS of sets! At least 6!
One was chocolate shimmer ink gel liner, bone eyeshadow, a blush, a lipgloss
Mauve, Raspberry, last year's holiday lip palette,
A few summers ago's blue and beige eyeshadow palette
4-5 pastelly cream eyeshadows
Black gel liner, sepia,
1 creamy lip color, nude-ish pink
set of 3 lip glosses (tubes)
Pale Pink pot rouge
set of 3 brushes
Tawny shimmerbrick
Rockstar trio from last year
face blender brush
ALSO::: 187 brush for 29$!!
But I only hauled Sweet Sienna :) Pics!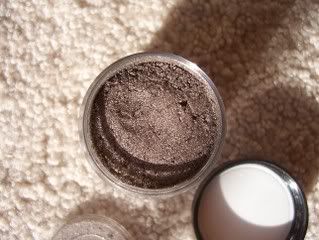 Now I have all of the Antiquitease pigments; your ladyship, sweet sienna, and gold stroke.