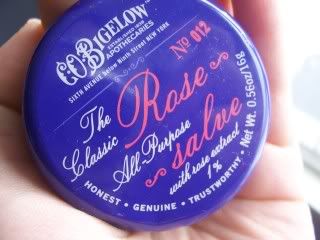 I've been using this as an overnight balm for years, and thought that I should finally review it! And here it is.
What is it? Developed by Bigelow Chemists, it is fragrance-free, and not tested on animals.
Their description:
"Our famous Rose Salve has long been a favorite since the early days due to its ability to care for lips and beautify skin. Emulsified with extra soothing Rose Extract which helps ease irritation and condition the skin.
Directions for use: Pat on anything as needed to care for lips or anything that needs a fix."
First of all, the fragrance. I don't know what you all consider fragrance free, but since this has a 1% rose extract, it definetly smells like roses. It may not bother you, but I don't exactly love it, since I'm not a huge fan of flowers anyways. It lingers for quite awhile.
Moisturizing: Honestly, this is pretty much just like Vaseline. It sits on your lips, and doesn't really sink in and moisturize. I put this on top of my usual lip balm and Rose Salve "seals" it, and I love to use this just for that use.
Amount you get and Price:
It's 0.56oz or 16 g. It seems like such a small quantity to pay for 7.50, but honestly, I think I bought mine 3 (close to 4) years ago and I still have over 50% left!! Great buy in this aspect.
Ingredients include:
Petrolatum, Lanolin oil, squalane, jojoba esters, rosa centifolia flower extract, gossypium herbaceum (cotton) seed oil, octyldodecanol, bisabolol, red 20 lake (CI 73360).
Color: It's tinted a transparent, pinky red but it goes on clear. Therefore, don't buy this if you are expecting a tinted lip balm.
Lasting ability: I find that this lasts for at least six hours. I can put it on before I go to bed and still feel it on my lips when I wake up. So definetly its a winner for lasting ability.
Packaging: This comes in a blue-purple tin, with white and pink lettering depicting ingredients, use, description and product name. It's nice, but I don't find jar type lip balms very hygienic.
Other comments:
It states that you can also use this for minor cuts. It lessens the stinging, and doesn't rub off on clothes like Neosporin might, but I can't see any other difference between the two.
Honestly, in my opinion, it's fancified Vaseline with a little scent and coloring thrown in. But hey, it's a nice girly version that will look much better than Vaseline on your dresser.
Pics: