(part of the stila Rock the Vote ad on stilacosmetics.com)
This is the color that Stila cosmetics designed intending to encourage people to 'rock the vote' or to go vote in the 2008 US elections.
What they say:
"Hit the polls wearing Rock the Vote Red! This election year, Stila has teamed up with Rock the Vote and created a powerful red lip color, to inspire all you Stila girls to exercise your right to vote. If you have not registered to vote yet, don't despair. Just click the register to vote icon to get started. Remember, casting your ballot is the only way to garentee your voice will be heard, and if you look incredibly glamorous at the same time, all the better!"
--taken from stilacosmetics.com
Wear: This gets a great score from me for wear. It wears well, and doesn't fade until the very last hours of the day. And when it fades, it fades evenly and leaves a really nice stain.
Color: I would say this is a yellow red with a slight hint of blue, if that makes sense! I think it would look great on a variety of skintones.
How it looks on NC20: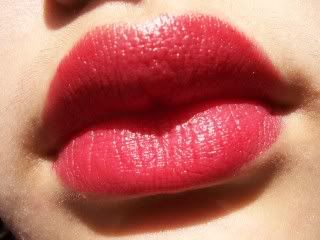 Comparisions: I find this pretty much a DEAD ON dupe for MAC Port Red, LE in Naughty Nauticals (May 2008). The only difference (so subtle however) is that Rock The Vote is a hint bluer. I also feel that the MAC is more moisturizing, and of course, more fragranced with that vanilla scent.
Top is MAC port Red, the bottom is Stila.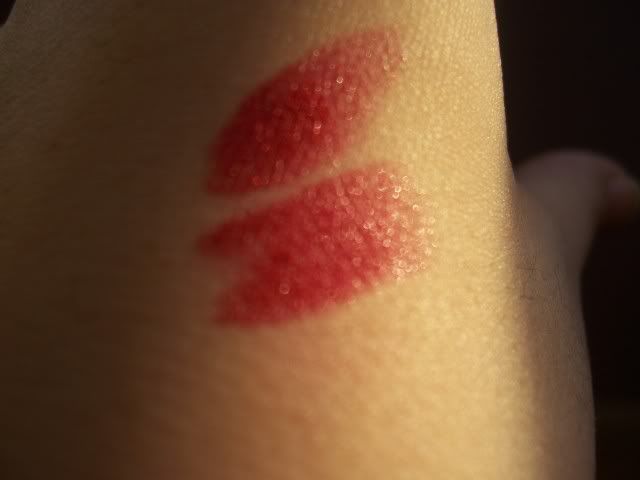 Texture: For those who have tried MAC frost lipsticks, I find it slightly firmer than that. It's super pigmented though, so a little will last a long way. This is a LOUD color! I don't think I would recommend it for those who are scared of red and just want to test out the waters. Part of the reason why I love it though is because of that obnoxious brightness.
Price: One of them will set you back 17$, which is an OK price. It's not cheap, or expensive, but middle of the road. However, I have heard reports of Stila lipsticks going back super quickly--if this happens to me I definetly will not repurchase, as 17$ for a lifetime of a few months is a ripoff! However, a percentage of the sales for this shade (not stated how much) will be given to Rock the Vote.
Packaging: This comes in Stila's signature enforced silver cardboard packaging. It's very chic, in my opinion, very sleek and pretty. I expected a little more design on the tube though, from Stila! I think it would be nice if they incorporated more of the Stila girls onto their packaging.
All in all, if you are looking for a dupe of the elusive MAC port red, or just in need of a great red, this is the red to go to! Order now, at stilacosmetics.com before December 14th, and you can get it before the holidays!