When MAC Quick Tease came out in the Brunette Blonde Redhead collection, everyone was saying that it was a dupe for the hot seller Jampacked [Cult of Cherry]. I didn't have Jampacked at the time, so I couldn't verify that, but now I do!
MAC Quick Tease on the bottom, Jampacked on the top [first pic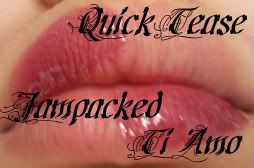 The last one shows the differences more accurately; Jampacked is more red and pigmented while Quick Tease is more wearable and has gold shimmer. Hope that helps!