I'm sure many of you had spotted the initial pictures / preview swatches of Jill Stuart Eye Jelly in Amethyst Mauve 19 many weeks [months?] ago. I mentioned then that I was on the fence about it, but I suppose I have decided to keep it, after some deliberation. And here is the full review!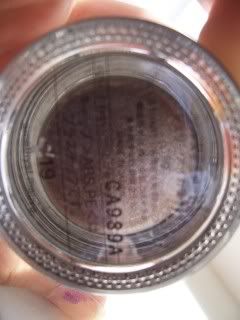 First off, the packaging. Jill Stuart is famous for having ultra-cute, princessy packaging, all clear and mirrors and elaborate designs. As you can see above, Eye Jelly comes in a clear pot, embossed with 'Jill Stuart' on the side in 3 places, and is covered by a mirrored, faceted lid with a cursive J in the middle. The lid has 8 sides, but the top is cut so it looks like a jewel. Can you say pretty? Definitely an item you can leave out on your vanity. Clear labels on the bottom so you can see the color & name if you choose to store this upside down!
This is a really unique product in terms of texture. It is indeed like jelly--you can probably tell from the picture above--as it's like squishy, but firm. Weird! I really love it though. But one downside is that the formula is a bit hard to control--one little blob of jelly is ultra pigmented, and you need to blend well or it'll look goopy!
The Eye Jelly lasts well, and it doesn't crease over a full day. The one thing that's making me reach for this less is the ultra shimmer. You can see them in the swatches below. Seriously Jill Stuart, I do NOT want my lids to look like a Disco Ball! [they do anyways when I wear this!]. It would be bearable if the glitter stayed put, but it falls all over my face, mostly when I use powder shadows over this [even though it performs as a great base].
Swatches/ Comparisions: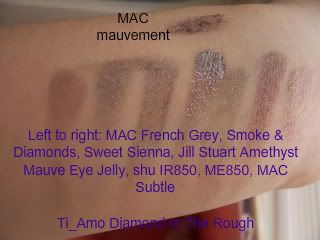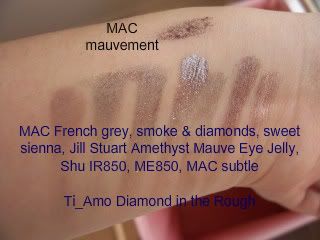 In the last picture, you can see how the formula tends to 'goop up' at the top of the swatch. Then I sheered it out, so that's how sheer it can go.
It's good that I can layer these [even at risk of looking like I'm going clubbing...the shimmer builds up!] because I can make it look more brown [sheerer] or more taupey silver [more layers].
A note: When using these, to have most success and less wastage of product, use your fingers. And don't swipe--pat them on, or you'll be left with the glitters! And, like all Jill Stuart products [well, some of them have a fruity scent], this is scented with rose. I can't detect the smell upon application, so it vanishes quickly.
Jill Stuart Eye Jellies retail for roughly 23$USD, and come in 16 shades, with two limited edition ones for spring 2009. But they are being revamped for Summer 2009 and will then come in 10 shades. I will write a new review when I purchase the new ones, as there seems to be a rather tempting purple coming soon!