It's a real pity that the Classic Besame line is no longer available. There were so many fantastic products, and, while I know the line isn't sold at their website anymore [but their new lipsticks are up!], apparently you can still find them at some brick and mortar stores. Of course, there's always the chance of Ebay and Swap, so I thought I'd do a review anyways.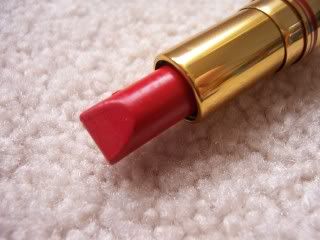 Firstly, I have to say that these retailed for 18$ apiece. But look at them! It's TINY! It's barely the length of my pinky, and it's shorter than a MAC lipstick! Jeez. So far, not so good for Besame lipsticks, that are so tiny. But I LOVE the packaging, as it comes in a lux red velvet pouch and the lipstick container itself is made of weighty golden metal, embossed with red designs. Here is a link to the lovely Karlasugar's blog which has guest swatcher Rina's swatches of all the Besame Classic lipstick:
Here.
There is also a MAC / Besame lipstick size comparision.
Packaging:
More Size Comparision: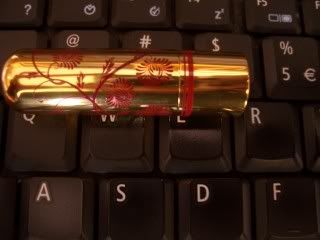 The color I have, Besame Red, is a gorgeous, retro blue matte red. I really liked it, but as it is brighter than MAC Port Red [which I already consider very bright!], and more blue-based, it really didn't look good on me in my opinion. I however, LOVED the vanilla scented formula that was weightless, not drying at all and so comfortable to wear. I wish I could get my hands on Potrait Pink, as the rest of the colors don't suit me!
Comparisions between the 3 red lipsticks I own [above].
As you can see, these lipsticks are BRIGHT! They are PIGMENTED! Besame Red is a great red but not for the shy! They fade evenly and last a long time.
How Besame Red looked on me: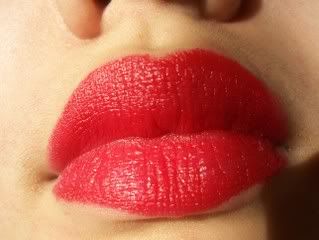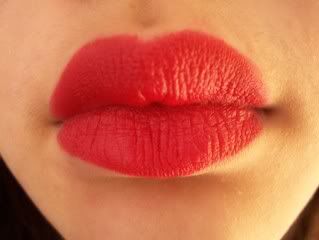 Overall, I really hope to get my hands on another Besame lipstick, as I loved the formula and pigmentation, but swapped away Besame Red because I didn't feel comfortable with the bright color. I would recommend these lipsticks for people looking for full coverage and lasting lipsticks. I advise you to go on a hunt for these lipsticks as soon as you can, as who knows what the new ones are like, and you may never see these again!