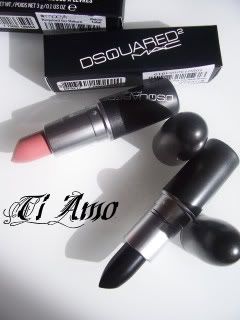 I actually only ended up buying 2 things from the two collections: Dsquared's Nude Rose & Style Black's Black Knight. I had wanted the black greasepaintstick, but it predictably sold out. Also, Seriously Hip nail lacquer is looking very tempting, I may go back for that.
Nude Rose is SO pretty! Definetly not unique, but gorgeous nonetheless. It's raining outside at the moment, or I'd post a pic of how it looks on my lips.
Black Knight-- I couldn't stop staring at this when I had it on. It was a sort of mixture of OH MY GOD and
this is pretty frackin' awesome
. I'm definetly doing this for Halloween. It does require a bit of layering to get very black, but reviews coming soon.