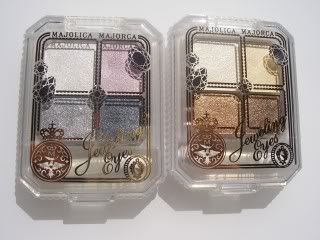 Ah, review long overdue! The Jeweling eye palettes came out the summer collection of this year, long ago in the makeup world! They come is a range of 5 shades for roughly 420NTD -- 13 USD.
I had been excited to hear of a new eyeshadow series from Majolica, but then was mostly disappointed to hear the initial reports of the powdery texture and the usual pastel like shades. However, I wanted to pick at least one palette up to see how it really was...and ended up getting another as well.
But anyways, the colors I ended up getting were SV887 and GD886. After swatching all of them I thought these two had the best texture and pigmentation, even if they are for a sheerer look.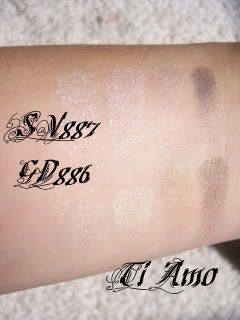 SV887 contains a shimmery white, a cool, purpled light pink, a medium silver and a darker gray.
The texture of the white was okay, a little chunky, the pink a bit chalky, but the other two great.
GD886 contains a gold tinged shimmery white, a pale buttercup yellow, a deeper bronze and a darker greenish brown.
The texture of all of them are a bit powdery, not atypical of Japanese eyeshadows. It's a very 'meh' texture, one that usually sucks when used with a brush but applies better with sponge applicators. If you use these palettes with a brush, you will be so disappointed! You MUST use these with sponges!
I like the color combinations of these two. Not overwhelmingly creative, like the Trick On palettes are, but they are very pretty and idiot-proof [trust me ladies, I would know ;-)].
Overall, if you're looking for a more office-friendly soft shaded palette, these are for you! If not, steer clear and keep your 13$ safe!