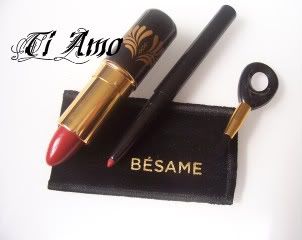 So, after coming across my review of Besame Enchanting lipstick, Ms. Gabriella Hernandez herself commented on it! She also said to contact them to try their new Voluptuous lipstick (which is NOT supposed to replace Enchanting. Enchanting will be released full size later this year!). Anyways, for 35$ you get a nice box, a lip brush, that small velvet case for the lipstick (pictured above), a lip liner and a lipstick.
The lipstick is .14 oz or 4 grams, and about the same size as a MAC lipstick (the mac lipstick is very slightly taller due to the different shapes).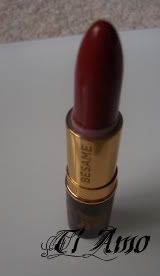 Note the different shape of the bullet...I like it because I always hate that I can lose the point of my lipstick. I didn't know how I'd use a completely curved bullet at first but it's surprisingly easy.
The packaging of these are metal and still evoke vintage themes but the black, as opposed to the previous red seems to be a bit more modern. I like it better! The black is very elegant and classy, and the cap will definetly stay on. Here's another picture of the set:
As you might be able to tell, the lipliner is nicely sharp. I can get a defined line from it and I don't need to sharpen even after a few uses. The lip brush is firm and slightly flexible, and nice for depositing even color. I was wondering how I could travel with it, as it doesn't have a cap, but I just wiped it with a tissue and it was okay. See the uniquely shaped handle? It's supposed to fit perfectly between your thumb and index finger. I think it may be a bit more of a marketing hype but it does work.
Please ignore the peach lipgloss underneath the Red Velvet swatches, that was the only decent swatch I could get for another product: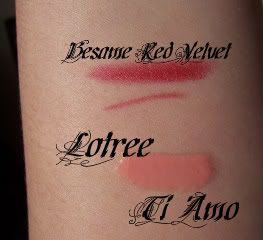 The lipstick I had swatched 3 sheer layers and the lip liner only 1, to give you an idea of how the color layers. The liner has a very nice match to the lipstick, you can hardly tell the distance.
The formula is nice on these (which also come in a nude and a pink color). I much prefer them over MAC's rather drying ones [please keep in mind I've only tried Lustres and Frosts], but I have to say that the Enchanting lipsticks probably had more WOW pigment factor. I think I'd use the Voluptuous color for everyday and the Enchanting for a night out or formal occasions. Also, remember that the Enchanting ones weren't supposed to be replaced with the Voluptuous!
I've heard reports of people disliking these because they were drying, but I find them very comfortable at first swipe. After a few hours it does tend to dry, like any other lipstick, so I put some lip balm on top. I'm so glad that the red fades evenly (though it does seem to become more magenta-ish over time, like pretty much every other red lipstick on me) and doesn't leave a ring around my lips. It might feather slightly though, but I didn't use lipliner with it, and the lip liner usually solves those problems.
Overall, I'm not sure if I'd repurchase these though. I really like the formula, but if I bought a set each time I wanted to try a different color, that'd be quite alot of extras you get with the lip liners (which I don't really use) and lip brushes. I think, that if they split the set up and had the option to buy the lipstick alone for a bit cheaper price that it'd get a positive response. I still want to try the nude color though!
Oh and another thing-- red lipstick is seriously a PAIN in the ass to photograph. I can't count how many pictures I took, and I still will include 4 to give you an idea how the lighting alters the shade. It's not that vibrant honestly, more of a slightly muted red (AKA, not Marilyn Monroe) and deeper.
This pic's probably the most accurate: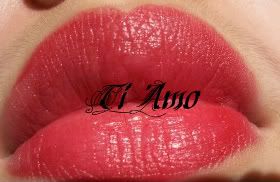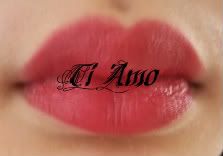 (Sorry for the annoying placement of the watermarks, but after a case of picstealing ebay'ers I won't take any more chances!)
*This review will kick off the Scarlet Princess series of red lipstick :)
**Please note, this product was sent to me by Besame Cosmetics for reviewing purposes.