When this came out, there was a HUGE craze over Makeupalley as people bought, posted about, took pictures of, swatched, asked questions about the fabled (if oddly named product): Giorgio Armani Lip Wax.
Well, firstly...I was sucked in, a little bit. I don't have anywhere near me to buy GA, and it's 26 bucks? Hell no! I could get like, almost 2 MAC eyeshadows for that price.
The makeupalley craze got me.
I swapped for this beauty (number 06) as fast as I could. Is it worth the hype?
Well...yes and no.
Here's what Mr. Armani has to say about the newest lip addition to his line:
" Lipstick without excess. A modern vision of lip color, Lip Wax compact lipstick is a blush of color for lips. The incredibly smooth and silky texture of Lip Wax glides over lips leaving rich, tailor-made color. The ultra-fine and soft Micro-fil™ veil ensures a smooth and seemingly weightless result. Like a second-skin garment, the weightless texture dresses lips in a comfortable and extremely fine film of color with a sophisticated satin finish.
application techniques
To obtain a more precise distribution of color, apply with the Giorgio Armani lip brush. For a sparkling shine, add a layer of Giorgio Armani lip shimmer."
(
Source
)
Sounds good eh?
The colors:
01: Nude Beige: Indeed nude, but has a touch of gray to it.
02: Antique Rose: I think this is more my-lip-but-better, maybe a little browner.
03: Sienna: I would think this is a darker, less rosy version of Antique Rose. Except for the fact it's darker, I can't tell much difference between them.
04: Raspberry: Reminds me of Bobbi Brown's Raspberry pot rouge--dark purply pink.
05: Cardinal Red: True yellow red.
06: Deep Chianti: The one that I have, it's a gorgeous wine-esque deep red. While it doesn't apply on me like in the model above (yes, she is wearing 06, but I wear it much sheered out) because it looks too red in that picture, it's gorgeous and perfect for fall.
07: Brighter, lighter than 04 blue-pink.
Here's the lovely KarlaSugar's
swatches
of 1-6, as 7 is new for Spring 09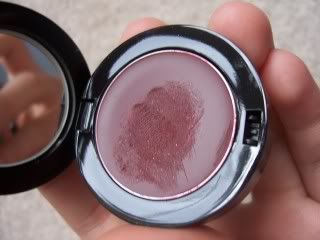 The texture is very firm--I rub around in the pot more than I would normally do to warm it up and 'soften'. It's good because then I can get a decent amount of it onto my finger. While GA advises to use a lip brush, I find that look too 'severe' and I use my fingers and dab it on.
I find this stuff VERY pigmented! And so, because it's so pigmented, I use it really lightly. If layered, it becomes deeper and redder, more true to the color in the pot. Here are two pictures of me with it on: (Please note that the sunlight washes it out terribly, the shadows are more accurate)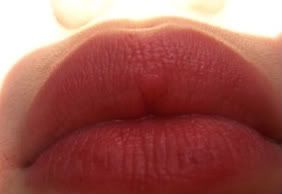 It's also quite drying when I apply it, but if I apply over balm it goes on unevenly. So I recommend that you have balm on for a time, wipe it off, then apply Lip Wax for best results. Once on, it has an amazing feeling--like you aren't wearing anything at all! Here's my own light swatch:
Packaging on this product is great. It's a shiny round compact with Giorgio Armani embossed on the side where it opens. Surprisingly, despite the shininess, it's hard to see fingerprints unless you're holding it up to the light at an angle. It clicks shut, reassuring you that it won't fall open and smear itself on the contents of your purse, and the mirror on the inside of the lid is great for quick touch ups.
This is the bottom of the compact: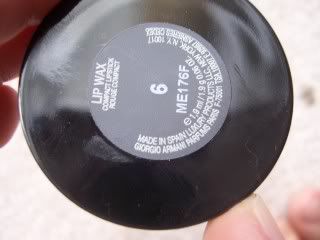 I absolutely love the wear on these. It will last much longer than Laura Mercier lip stains, for at least 3 hours and through drinks without rubbing off onto the bottle, and a ten minute shower. Seriously, this is the most long lasting lip product I've tried (that may not be saying much though as I don't really like long-wear lipsticks).
Lastly, the price. I griped about this--26$!!!! for 0.06 OZ (1.9 g)--and you don't need that much for each use, particularly if you like the sheerer, translucent look. I would say it's worth it for people who are looking for long-lasting colors, like couture end brands or are collectors of Armani. As for me, even though I like these, I don't think I can bring myself to shell out 26$ for this little pot again.