Alright--this really isn't a review of Face Architect. The sample that I had is long used up, and the details foggy in my head. I can tell you a few things about it, but that is another review. This review, is on Shu's numbering of the shades. The idea of numbering goes for all shu uemura foundations, but some of the shade numbers are face architect only shades.
Here is my chart (Contains only 10/17 colors though)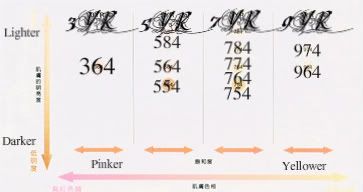 Alright. Take the first number; it indicates COLOR...for example 3. Judging by the arrow below the chart, that is the 2nd most PINKEST shade range. So 3 would be 2nd out of 1, 3, 5, 7, 9 series. 1 (not shown on chart, lowest number) would be the MOST pinkest. Likewise, 9 (highest) is the YELLOWEST. 5 would be neutral leaning pink, 7 would be neutral leaning yellow.
The second number indicates DEPTH. Now, the HIGHEST number is the lightest, and the smallest number is the darkest. So, 8 would be lightest, 0 would be darkest.
Putting the first two steps together, 764 would be:
7 = Skintone is neutral but leans yellow.
6: Skintone is semi fair.
Now the last step. The last number will be 4 or 5. I have emailed Shu asking why the numbers vary, but have not recieved an answer. Therefore, by the explanation (and my father's translations) on the chart, it is the 'level of saturated color'. 5 would be more pigmented, and 4 less. I would assume then 5 is more heavy duty, but as Shu customer service has not replied, I cannot verify this.
Other colors not in my chart: (Very is most, semi is 2nd most, leans is least)
164: Sunny Peach Beige = Very pink and semi-fair skintone,
165: Medium Peach Beige = Very pink and semi-fair skintone
345: Deep Peach Beige = Pink and semi-deep skintone
355: Peach Beige = Pink and a little bit lighter than 345
365: Pale Sunny Beige Pink, and semi-fair
504: Warm espresso = Leans pink, very dark
534: Sunny Beige = Leans pink, Semi-dark,
734: Warm Medium Beige = Leans yellow, semi-dark (more tan I think)
934: Almond Olive Beige = Very Yellow, Semi-dark (tan), with Olive undertones
I hope this helps when selecting a Shu uemura foundation, and I will update this review once Shu CS has answered my question about the last number.