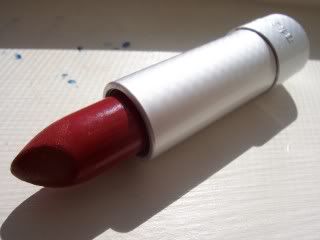 As an update to my much fawned over Rock The Vote Red, I am pissed off. Alot!
Let's take a trip back in time...
July 2008: Rock the Vote and Stila team up to create Rock The Vote Red lipstick. Cue excitement.
October 2008: I manage to swap for Rock the Vote (retail 17$)
October-December 2008: Tried Rock The Vote a grand total of 3x.
March 2009: I open RTVR and it's gone bad! It smells yucky--like crayon--when it used to smell like nothing.
WHAT THE HECK!? I pretty much have to throw away a 17$, tried 3x lipstick. Throw in the fact that I've had it for 6 months.
Wow Stila...that's all I can say. Better fix this, or you'll be losing a LOT of customers. I, for one, am not going to buy any lipsticks or glosses from stila till they fix it, because I don't like to waste my money. Now, I've got to trash it...