This is probably my most used lipgloss to date. I mean, what does it not have going for it? It lasts for quite some time but isn't sticky--but it still makes your hair stick to it if caught on your lips--gorgeous color and amazing smell, and really cheap!
Best lipgloss ever.
Let's start with the price. Normally, it's 6$ for .47 fl oz (14 ml). Buut, during the summer and holiday sales, the Liplicious glosses are 3 for 15! I've had my tube for about 2 years and it's only half gone! Great value for the money! And if you don't like the color of Raspberry Jam, there are 7 other colors, ranging from medium pink, clear with golden shimmer to currant. Now, I've checked on their site, and Raspberry Jam isn't on there and the rest seem to be on clearance. I hope this doesn't mean that it's going to be discontinued as I remember there were aLOT of other colors!
[EDIT: OMG. I've found out that this color has been DC'ED EVER SINCE JULY! *cry* I need to go stock up now!!!!]
The formula on these is really nice! Raspberry Jam [and a few others like Dipped Strawberry] is nicely pigmented, thick without being overly tacky and doesn't so much taste as smell good. Compared with MAC, it's about as thick, pigmentation slightly sheerer and definetly not as sticky!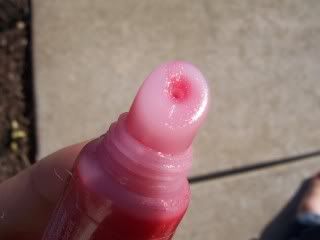 I also like that the packaging has a slant tip applicator --my preferred method of application--and that the cap has a stick that prevents excess gloss from leaking out. Yay for wastage preventation!
The color is an amazing pinked red with golden shimmer. It makes my look look finished without being overly so. It's the gloss that got me into reds!
All in all, I'm going out ASAP to hunt down some tubes of this! I shake my fist at you Bath and Body Works for discontinuing this amazing lipgloss.
P.S.
This is totally guy approved. All the guys that have smelled it [loong story!] give it "two thumbs up!". As if you needed any more incentive to track one of these down!