So this is the eyeshadow that I was super excited to receive, both because of the hot pink color and that it's the first SkinFood item I've tried. Well, for so many raves about their BB creams and skincare, it's eyeshadow kind of falls short and leaves me disappointed.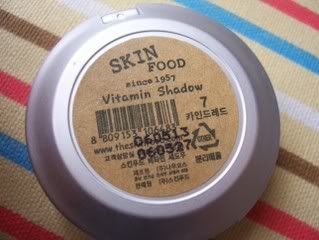 As you can see, the packaging is really cute, with a cardboard esque label on the back--reminiscent of Stila, (and with the cute emblem on the front!). It's bigger than MAC, as you can see from the picture above. Although, since SkinFood is a Korean brand, I'm not even sure the name of this particular shade is indeed 7...But bonus points for there being a mirror and the imprint on the shadow doesn't fade at first swatch.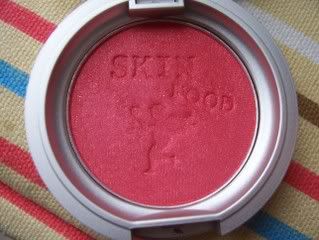 Isn't that cupid cute? Heehee. The formula on these is actually really good--on my hand. It's pigmented and blendable, though it's not exactly silky. It also is a little bit sheer, which I don't like--I wanted this to pop! But I could live with it if it didn't have really obvious bad points. It doesn't even crease!
I'm not sure what the price point is on these--but if it's SkinFood, I would say around 10$. Definetly not worth it for me--read on to see why, but I would be surprised if anyone bought this at all!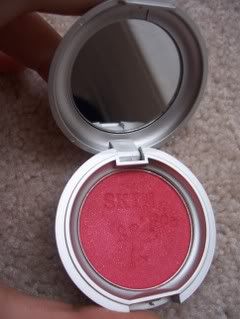 Compared with MAC bright Fuschia (the right)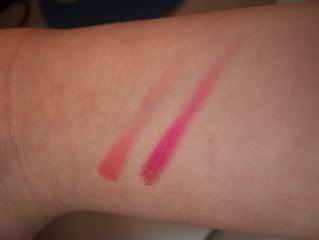 Compared with MAC bright Fuschia (bottom).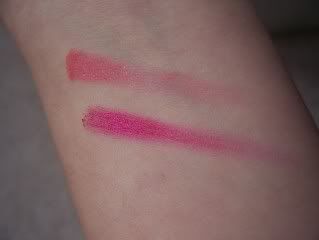 When I put this on, even over UDPP, it shows up all of three seconds a lovely, bright, hot pinky red. Then it just disapears! I blink, and then all I see is this pale, sheer dust. What happened to the bright obnoxious shade I was loving? I've never had this happen to me before.
So I tried again, over a bronze eyeshadow and UDPP. It stays on for a little bit more before fading...
I give SkinFood credit for making such a lovely shade, points for great packaging, but they seriously need to redo this formula. Perhaps I will use this as a sheer blush...