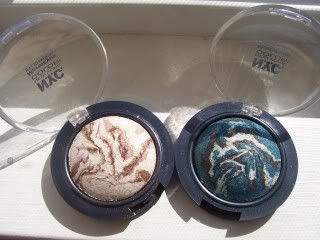 These--along with the NYC Chroma Face Glows--caused something of a splash in the makeup world when they were launched. People who had them touted then as dupes to the MAC Mineralize line, for only a few dollars! So women went crazy looking for them, because, like the Sonia Kashuk Highlighting Brush, the new line wasn't at every store. And the swirls make them look so pretty! Especially Aquamarine (left) oooh...ahhh....[is that only me who does that?]
Is it worth the mass hunt?
Well...no.
Let's start with the outside. For NYC--notoriously cheap, hit and miss line--it's typical. Easy to manufacture, flip top lid and information on the back. It's just decent, though I give them props for a clear lid to easily identify the color inside. I don't like the dome however--it's hard to organize with it!
The back of the packaging: (Nice touch that it's colored to kind of represent the shade!)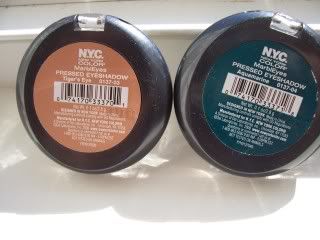 So, alright, by this point you're paying 5$ (I'm not exactly sure of the price, it's under 5USD$ though, because I swapped for this) for decent packaging and how pretty it looks in the pot.
On to texture and color payoff. Swatches:
Super sheer! I mean, I can kind of understand--MAC said itself that minerals were supposed to make the product sheer, but layer well--but I've layered this 3x. Still barely any color! The texture is curiously hard too--not at all like the MAC ones they're trying to dupe. So you'd need a pretty stiff brush to apply and get decent pigment.
Well, it wasn't an issue to me...but the
colors
were! Such a disappointment! What looked like a good wash shade in Tiger's Eye turned out to be just a bunch of gold sparkles on the eye, and the promising smoky tealy blue turned into flat gray. I can't describe how the blue looked -- it looked almost chalky, maybe? But it wasn't
chalky
, it just looked...grey, flat and off. That's all I can say to describe it. It doesn't help that within an hour the color just fades away completely on me. Yuck!
So now you pay 5$ for sheer, hard to get pigment that fades, decent packaging and pretty swirls. Sorry NYC, please try again if you want to unseat MAC...