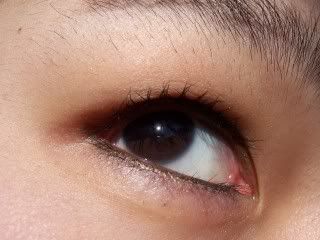 Me wearing Egyptian eyeliner. You can see it pulling more bronze on me this time [I paired it with MAC go]. It's on my bottom lashline.
Behold, the eyeliner that's going to turn me into an eyeliner junkie. All the wonderful ness of eyeliner--using it as a traditional Indian kohl liner, water/tightlining, etc. are now unlocked to me!
This pencil is super creamy [hence the name, creamshapers]. They
glide
on, depositing color [you may have to go back a few times to get really rich color]. But, because of the creaminess, it doesn't last on my oily lids [the top] without UDPP. With UDPP, it can last slightly longer, but creases and disappears. I don't like lining my top lids though, (I much prefer waterlining) so it's no big deal for me.
Once I swatched it on my hand, it did not budge at all. On my eyes, I line the bottom over UDPP and it'll last through 8 hours; at the end of that it'll just be bronze shimmer though. It's just OK for me lasting power wise.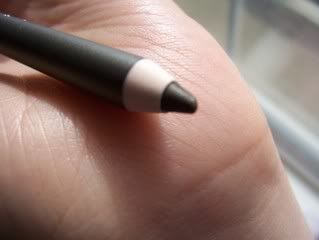 Another bad thing about the creaminess though is that it'll probably run out fast. At 15$ a pop [with tax], I would hate to be out of this in a few months! But it's so gorgeous, it's probably worth it. I know someone whose gone through 4 of these and is on her 5th! But I, being the cheapie I am, cringe at 15$ for a pencil liner.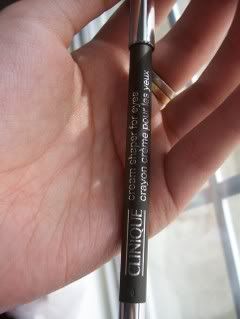 What can I say about the packaging? The mirrored cap and end are a nice touch? There's not much i can say about pencil liner packaging. The cap fits well and definetly won't fall off.
The color of Egyptian is this really beautiful dark bronzed olive, overlaid with golden shimmer. It's amazing! And it's super hard to photograph! Look out for pics!
On comparisions with the Clinique Egyptian cream liner, I have heard conflicting ideas. There is one that states that the cream is a little more 'flat', and not as pretty as the pencil one, or the other, that says that they are the exact same. One thing is for sure though--the cream lasts way better than the pencil. I hope Clinique re-releases the cream version!