Wow, this review is long overdue! I promised you this weeks ago, but haven't had much opportunity [aka, excuse for forgetting ;-)] to sit down and type this up. But here we go!
Please note that this product is
discontinued
and while your local store / counter may have a few left, for best opportunity to purchase this, go to a local outlet store or websites.
While I swapped for this, it used to cost 28$ for 0.26 oz or 7 grams. I thought that it cost so much, but now that I've used it, and see the amount you really need, it's a decent price.
The color of Plum Fantasy is, indeed, plum. But it's not purpley, it's very rosey--rosey bronze with the dustiness of plum is how I'd describe it. I really do like it, but it has big sparkles in it. Not really fine shimmer that translates into glow once applied--this is bits of silver sparkle. I would have prefered that Lancome keep these matte! I, for one, don't like overly shimmery blush and this is one reason why I don't use this as much as I would if it were matte.
Of course, the part you've all been waiting for--the texture! It's spongey! It's moussey! It's super soft! It's pigmented! It's...Lancome Magique Mousse blush!
Out of the [decidedly not that many] cream or mousse products I've tried, only two have really made my eyes pop out at the texture. That's this stuff, and Jill Stuart Jelly Eyes [a review for another day]. It's so different! And it's not bad. Imagine whipped cream. Now imagine that it's firmer than whipped cream and spreadable [don't tell me you've never wanted to moosh your finger around in a cream product before!]. It easily blends into my skin, and the texture is really amazing. I love it!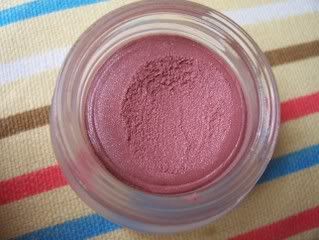 All of this deliciously amazing product is housed in a frosted glass jar that feels nicely weighty. The cap is black with a golden rose--Lancome's symbol--on it. When all is said and done, this gem is definetly worth hunting down--Dang Lancome for discontinuing the series!
Update: Here is a picture of me wearing no blush:
Then wearing Plum Fantasy [used lightly, not a fan of heavy blush]