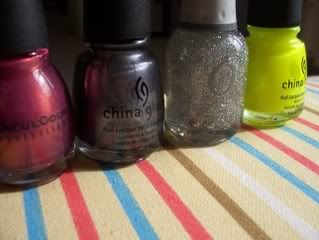 Recently one of my friends just gave me these four polishes for no reason at all! While I know I can't wear that highlighter yellow, I can't wait to try the other three.
Gunmetal: China Glaze Awaken
Yellow: China Glaze Celtic Sun (neon)
Purple: Sinful Kismet Elated
Glitter: Orly Shine On Crazy Diamond
Hopefully I will get the chance to use Awaken as soon as my nails grow out to a decent length!