So not to confuse people, Dejavu seems to be the name for Fiberwig used in Asia. It is the same thing as Imju Fiberwig, don't worry.
The name: Paint On False Lashes.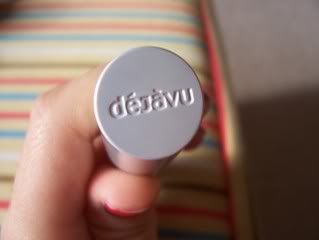 While the effect certainly is really nice, I don't think it's 'paint on false lashes'. When I think of false lashes, I think of long, lush, and lots of volume. Even though Fiberwig almost doubles my lash length, it doesn't do so great in the volume department. I would rec Fiberwig for someone whose looking for mostly length, as it would work really well then.
The packaging: I love that its in a red tube! It just seems so much prettier. The wand isn't too big either; just right. You get alot for your money, as its bigger than most other full size mascaras to me (the packaging doesn't list the weight). A+ for the packaging!
The Wand:
Application:
Borrowed with permission from piasucks2 at Makeupalley.com:
"Use the wand to brush up and out for lengthening, and hold the wand vertically if you need more volume. Once you do two coats, replace the wand back in the mascara, then take it out, bounce the mascara wand at the very edge of your lashes, and voila! Bounce the wand at the edge of your lashes twice and you will have more than DOUBLED your lash length. This mascara does NOT flake, (remember, these are fibres) smear, but can clump if you are not careful. The key is this - You have to be quick with your application, if you take forever the fibres will dry and when you apply the second coat it will stick to the other fibres."
I am so glad Pia wrote that review, because at first, I was using it like a regular mascara and it was horrible! This holds a curl for hours, for those curl-fanatics!
Effect:
Bare eye: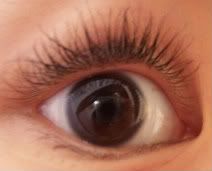 As you can see, much better, but not 'false lashes' great! This is as close to Holy Grail as any mascara has come so far though, because of the length and easy-to-take off-ness!
Special Editions: As I recall, there were two versions released for Holiday 2008 (a sparkling navy and a sparkling black). Jojoba of Makeupreviews reviewed the special edition Black color and it didn't live up to her expectations. I wonder why? Also, that tube seems to be much larger than the original.
Taking it off! Nothing special required. Use warm water and just gently rub at your lashes and voila! Little black fibers come off. (Warning: Don't do this with any males in the vincinity. Those tough guys can't handle the sight of it!)
This is available at sephora.com for 21$, a total ripoff as it's on Sasa.com for 12$ (albeit under a different name; Dejavu). Also, in Asia's drugstores, it's also under Dejavu for 12$! What is Sephora playing at?!