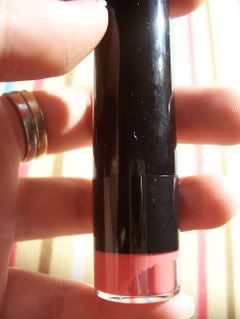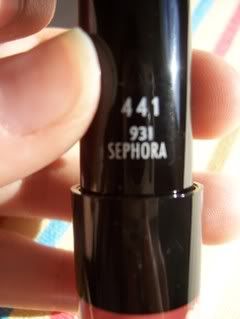 I finally pulled this lipstick in 441 (931) (I hate how they have numbers for names! I don't know which one is the official name, especially now that Sephora is discontinuing the series and it's 5$ from it's original 12$. It's absolutely great, and I'll be looking at Sephora's lipsticks in much better light soon.
W
hat Sephora says about their Cream Lipstick:
"Smooth Sephora's creamy, rich lip colors on one at a time, or team a couple together to create a shade that's uniquely you. There's a shade for every need, every day, every evening."
What I say about Sephora Cream, Lipstick:
It's really too bad that their discontinuing this series! I received a brand new one as a swap extra awhile back and only tried it today. It's great!! While it's not BAM in-your-face pigmented, it's medium pigmented and shows up on my reddish lips. Even over lip balm, which sheers out even the most pigmented lipstick, it's a nice pop of color. Here are some swatches: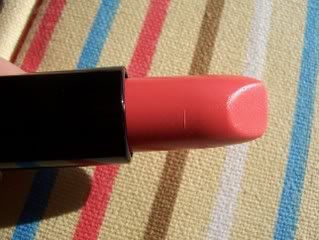 As you can see in the pictures, the lipstick is really glossy and creamy. They feel great on, like another layer of balm. As time goes on, it may be a little drying, but since this lasted through a bottle of Coke, lunch and a granola bar, I don't care. This particular color is a nice pinky-coral that I really like! I thought it would be too bright and clownish once I put it on (part of the reason why I haven't touched it till now!) but it's definetly not. However, you can layer it if you do want it brighter.
The packaging is just OK. I like that it has the color of the lipstick shown in the clear bottom, and the glossy black doesn't make it look cheap either. A pet peeve I do have is that I wish the label was not on the inside of the cover, but on the bottom, like MAC. But it's not likely to confuse itself with other lipsticks of the line either, due to the clear bottom.
Scentwise, I can't detect anything on my lips, but when I opened the tube and sniffed it (lol) it does have a sort of sparkling grape juice scent. I don't know why I think it smells like it, and again, I don't smell it on my lips, but it's a good idea to mention it anyways.
While the original price was 12$, I would gladly pay that for any of Sephora's Cream lipsticks. They're better than MAC (in my opinion, since MAC is quite drying), if not just as good. However, since they're being discontinued, run to your Sephora and see what shades they have left! You won't be disapointed.