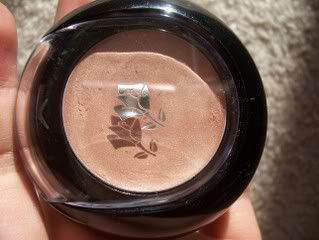 It seems to be Lancome Blush week over here! You'll see why soon. This particular blush is touted to be:
"Sensational effects cream blush. Smooth Hold."
And to:
"Design your cheeks with a creamy touch of color. Blendable. Lasting. Sensational Effects.
A beautifully blendable, silky cream blush that gives cheeks even, lasting color. Smooth and non-greasy, it glides onto cheeks softly and evenly. Perfect for all skin types. In 3 finishes: sheer, shimmer and riche."
(Source)
Sounds great right? It is. But that didn't stop me from swapping Freeze Frame away. Why? Well, I'll tell you why.
Colour Design Blush is an Allure's choice (just thought I'd throw that out there.)
The texture is indeed, silky, blendable and a whole lot of good. It's not as thick as say, MAC cream blush, or as Lancome's own Magique mousse blushes (Now discontinued), or Bobbi Brown Pot Rouge. I like that it has alot more 'slip'; as it seems to blend so much more easily.
Smooth and Non-greasy? Check. Like I said before, this blush has alot of slip, and so is very smooth. Blushes with that quality tend to be more on the greasy side, but this one is not. So far, so good!
These blushes are very pigmented, but a light hand can let you get away with most of the colors, if you want to shell out 27$ for each one. Color Design blush comes in 11 colors, ranging from light pink to gold to red and plum, to mocha and what looks like dark rust. You can find any perfect shade for your skintone and preferences in the line.
Which brings me to another thing--price. I swear that last time I looked, these were only 23$. Why the sneaky price raises Lancome? And to 27$--almost as much as a Chanel lipstick! I don't think I could bring myself to purchase one cream blush for that much! (P.S. I had swapped for Freeze Frame in the first place!) Although, some time in the future, I probably will buy the Petticoat Pink color...you know how makeup addicts are!
Freeze Frame is indeed for use as a highlighter. The lady at the counter did tell me that it could be used as blush on super-pale complexions though, when I went to investigate some more. I'm not sure how well that would work as I don't have super pale skin and don't know anyone who does.
As a highlighter on NC20 MAC skin, it works really well. It adds sort of a luminescent shimmery glow--I couldn't tell you the color as I am horrible with color descriptions, and hope that your questions will be answered by the pics. They last very well on my combo-oily skin, but I just don't reach for highlighters! I must have about 7, and never use them! (This is the reason why Freeze Frame had to go).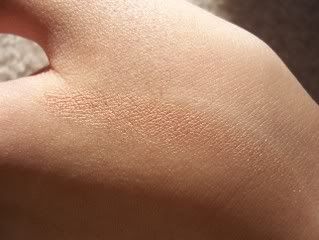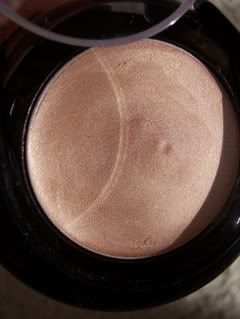 The packaging is just OK. Sometimes it looks tacky to me; sometimes its just meh. You slide the clear cover back, like the Color Design eyeshadows, and voila, you can now use the blush. When you aren't using it, it locks securely shut.
All in all, another really great Lancome blush, and while Freeze Frame was not for my preferences, I might pick up some more later on.