This giveaway is long overdue as actually my first blog post ever was July 22, 2008, but I was writing up swatch posts, and thought that I should get home before I did this giveaway. As a side note, now that I'm back in the USA, there won't be any more swatching as obviously those brands aren't available here : (...
Anyways!
What's up for grabs? [All items are brand new and haven't been opened]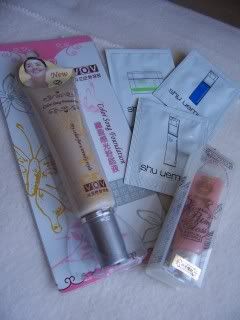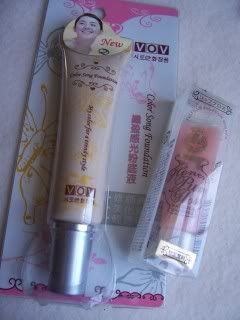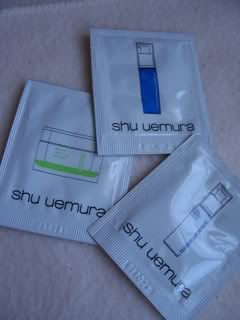 VOV Color Song liquid foundation in 02, a light yellow based shade
Majolica Majorca Honey Pump Gloss in PK122, a light pink
Samples:
Shu uemura depsea moisture replenishing essense
Shu uemura ACE B-G reinforcing gel cream
Shu uemura WR EX activating whitening essence
Rules to enter:
Unfortunately, this giveaway is for readers living in the USA
only
. I'm sorry international readers, because I know there are a few of you, but I hope to make it up to you one day and do an international reader only giveaway.
1. Become a follower of my blog [the panel is just on the left! Hit become a follower!]
2. Leave a comment stating your favorite Japanese brand [high end or drugstore, or in between! I don't care!] and why!
3.
The giveaway will end on August 19th, which gives you about 2 weeks to enter. I will announce the winner on the 19th, and

you must contact me within five days at monokoroboox3@aim.com. If you do not contact me within five days, I will choose another winner.
Good luck!