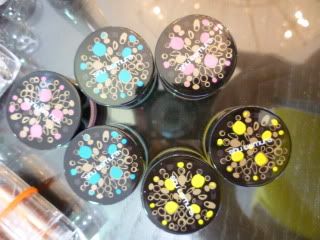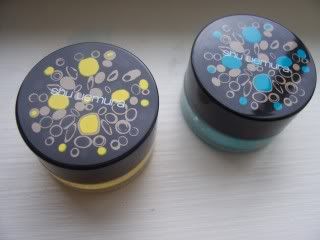 This is a reader requested review! I'm sorry that I haven't gotten to this until now, but I've been soo busy and tired :/. So I won't elaborate TOO much--if you have questions, I'll answer them in the comments. This will be a quicker read, because I've gotten feedback that readers don't like to do much reading and prefer pictures.
Price- 24USD for 2.8 grams or 0.098 oz. It seems like SO much money for the small pot, because Bobbi Brown's are 21USD for .1 oz and 3 grams. But honestly, shu owns you Bobbi, and I'm not just saying that because shu is god.
Consistency- Shu's is thicker than Bobbi's [which I'm using as a reference because it seems like many have tried hers] and creamier. The creamy texture of the shu as opposed to a more gel texture of Bobbi Brown's makes it easier to use as a cream eyeshadow--as the Primitribe eyeliners are supposed to be used as.
Colors: The primitribe gel liners are GORGEOUS. They are bright, they are rocking, they are
perfect.
This is what MAC aspires to be, what Make Up Forever does so well in matte finishes. I realize that most people won't wear this regularly [heck I think I've only used them a few times!] but I LOVE them. They're loud, and in your face, and obnoxious, but I love them! The colors Shu released with this collection are:
Spinel: Bright warm hot pink.
Turquoise: Bright medium blue-turned teal.
Citrine: Bright sunny yellow.
All of these are very pigmented and creamy.
Got creasing? Well, yes. I must note though that the actual gel liner product wasn't meant to be used all over the lid; just these colors were. Also, I was NOT wearing a primer, and if used like a regular eyeliner, these wear great on waterline and lid.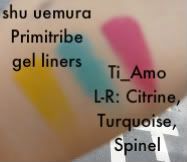 These are the only pictures I could pull up. I had a horrid camera--the pink is warmer, the blue is a bit warmer and more teal and the yellow is what I think of when I think 'lemon' yellow, but darker and more vivid. Delicious!
This one is an accurate pic:
This one is too, maybe slightly darker in real life.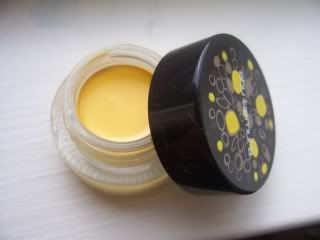 I like the packaging--but how creative can you get with gel liners? Glass pot, check. Black lid, check. Limited edition design on the cover, check. I really like the design though :D.
Overall, if you love brights, then you need these. They are a dream to work with and are beautiful. In my opinion, totally worth the 24$ price tag, and work fast--these are limited edition!
Side note: Spinel is an Asia only release.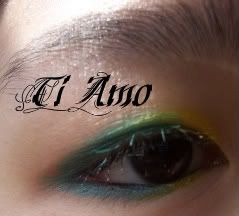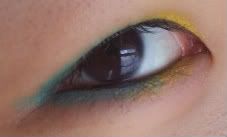 * Another side note: To get it to show up to this intensity on my eyes, I did have to layer. However, I was using a brush that sheers the product out. I think I used three sheer layers.
What do I use to apply/blend these puppies? A brush like this! It says 6m sable on the handle but I'm really not sure if its available as it was part of a set. I think it could also be used as a lip brush, but I find it gives great control over the color.
What do you think? Will you be picking up a Shu Uemura Primitribe gel liner?