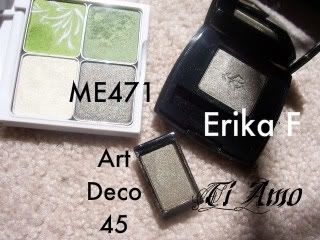 When I was in Taiwan this year, I saw quite a few eyeshadows that I thought could dupe the infamous Erika F from Lancome. Of course, in the name of blogging, I bought the two that I saw: Shu Uemura ME471 and Art Deco 45. Here's how they stack up:
ME471: The most pigmented of the three, and the most olivey. I guess that's obvious because its named Olive ME471. Amazing buttery texture, and shimmery.
Ombre Absolute 144 Erika F: Super glittery and most green, and also lightest. This has probably the most issues with fall out, and its worst vice is because of all the glitter.
45: This looks hideously warm next to the other two, very bronze. It doesn't on its own, but now that I have this next to Erika F, it's nothing like 144.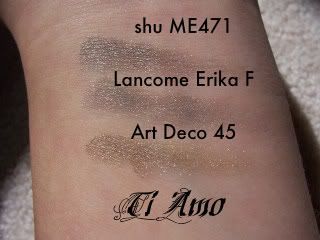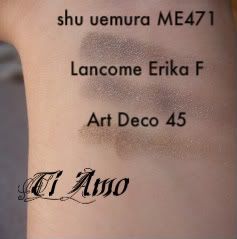 So far, the closest dupe for Erika F is Shu Uemura number 471 but it doesn't have the glitter and more green / silver that Erika F is.
The search continues...