Ah, OK I'm back with another review! This is from the brand Etude [of which the more popular Etude House is derived from] from Korea, which made waves through the blogosphere after several blogs reviewed items from it.
I jumped when I saw the counter in Taiwan! I had been looking for it earlier but Etude [House] seems to have left Kaohsiung and so I couldn't find it, and had given up. But I found a small, picked over selection of Etude at Hanshin [and am now regretting not getting their makeup base. Damn!]
But anyways, I picked up this gloss for around 12 USD [400NTD, with a buy one get one free of equal or lesser value....so I also got a brush. But that's another review!].
From a rough translation, this lipgloss is enriched with moisterizing essences and shimer; the liquid texture wraps your lips in delicate shine.
Let's see how it really is!
Here it is: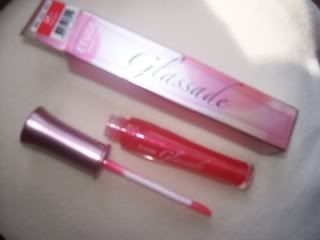 Cute packaging right? It actually holds 5 grams, which I probably won't EVER finish but it seems like less than my other brands because I've only used it a few times and there's a bit of space at the top now. The wand handle is pretty tall and is a pinky silver, and a nice heart motif on the top. Cute, but not too overly princessy, which I like. [Yes, there can be too much of a good thing!]
Anyways, I think this comes in 10 colors, of which I have number 2, Apple Jelly, a bright reddish pink. The range comes in a nice selection from bright pinks to lighter ones, peaches and even clear and gold ones.
The picture seems to give the impression that this color is a 'jelly' finish--slightly translucent creme. It isn't, there's quite a bit of shimmer that my camera couldn't pick up.
It's actually not that pigmented on lips. It gives a slight tint, but a very glossy finish. I would like it if it didn't cost 12 bucks! I'd pay like 5 dollars for it. It's a good thing it lasts quite awhile without being overly sticky!
I notice a very very slight fruity scent but its so light that I can't discern what it is. Whatever it is, it dissipates very quickly upon application.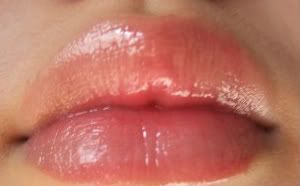 Okay, whats the bad thing about this? The wand. I never thought that there could be a bad lipgloss wand--I've never met a bad one! The bad thing about this wand [a standard doefoot] is that it doesn't pick up enough gloss. WTF? But I have to redip the wand to have enough for my whole lips. Turnoff!!!
The consensus? Save your money from something better from Etude [House]. You don't need this!