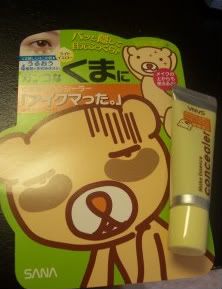 Who can resist this amazingly cute concealer? You have to love all the extremely cute things the Japanese come up with, and paired with makeup, unbeatable!
Anyways...Sana made waves when this came out! Everyone tried it, and you either loved or hated it. As for me, I was making my innocent way along the drugstore aisles and then--oh noes! My eyes land on this epicly cute little bear and I have to have it! I got it for around ten US dollars, [300 something NTD I believe]. SANA also makes a light pink concealer that has a walrus design on it, as opposed to light yellow and a bear.
So anyways, we've established that the packaging is cute. The actual tube gives you 12 grams in a metal/foily yellow tube with a small opening to squeeze your product out.
This color is a bit washed out by the sun, but it's a good representation of how thick the formula is and how pigmented it is.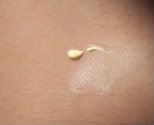 The texture is not that runny so it'd be hard to use, but isn't so creamy that it's hard to blend either. It's a very nice formula that blends easily to a smooth, almost powdery finish. A+!
The color sort of scares me. It's a very pigmented, light, bright yellow [No one can be this shade naturally!] that is supposed to combat dark under eye circles. While I don't have very severe under eye circles, I gave it a whirl.
Guess what? That freaky formula works! The yellow neutralizes the blueish skin very wel; keep blending and it brightens up. You'll notice it [because, of course, you have just applied it and are waiting for your fabulous results] right after, but look away from the mirror and back again and you will be amazed at how natural it looks.
This lasts all day, even through sweaty and humid weather. I admit I was skeptical of this concealer because of the color, but now I kind of want to try the sister product in light pink! My skintone is the opposite of pink but I have a feeling SANA's products can magically work for me.
I approve this concealer for people who just want a bit of brightening up around their eye area [not for those who have very dark circles]. After all, at ten bucks for a quality product, you can't really go wrong!