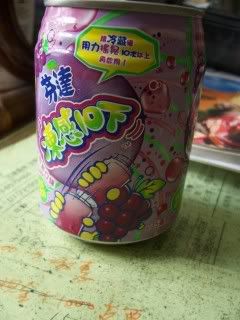 I kid you not. Behold, Fanta Jelly Drink, that, when you shake it for 10 [or 12, the commercials say 12 but it says 10 on the can] seconds, it'll turn to jelly, because apparently some acids will shake up with some other acids and whoa! It'll turn to jelly.
Well, in honor of the fact I'm in Asia and us crazy Asians have all kinds of wacked out schtuff, I tried it. Turns out you don't need to shake it for it to turn to jelly...I didn't know it was jelly at first, and boy did I get a shock! It comes in orange and grape.
It has a really weird texture, it's hard to get used to, a thick jelly that still fizzes and tastes like regular soda. I couldn't get myself used to it so I had to swish it around in my mouth so that it vaguely resembled liquid again before drinking it.
Only found in Japan and Taiwan, so if this seems to tickle your fancy, if you're ever in the neighborhood go pick one up.