Alright I've got the lipsticks and Mineralize blushes [missing Daft Pink as the MA was using it..grr]! The lipsticks are mostly lustres I think, I used several coats to get the colors to show up well / differentiate. The most pigmented were the brighter colors.
Ok, from Specktra, the finishes/official lipstick color descriptions:
Madly Creative - Pink neutral with white pearl (Frost)
Ever Embellish - Plum brown with red pearl (Lustre)
Made with Love - Bright coral pink (Lustre)
Colour Crafted - Milky pink (Frost)
Trimming Talk - Bright fuschia (Frost)
Most Popular - Purple with yellow undertone (Lustre) (Repromote: Hello Kitty)
The mineralize blushes, I was NOT a fan. They were sparkly! They weren't as buttery as last year's release either. Nice colours, but LE and a price tag of 21 bucks? Forget it.
I didn't swatch the shadows because the SA was eyeing me oddly at that time and I thought I should make a getaway and head off to the other counters to swatch. I can say they weren't as nicely textured as last years though, and nowhere near as pigmented. I think you could use those for a medium pigmented look though.
Pics: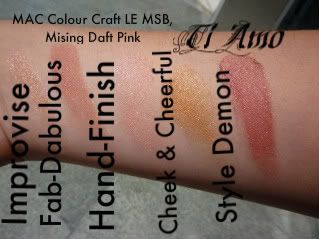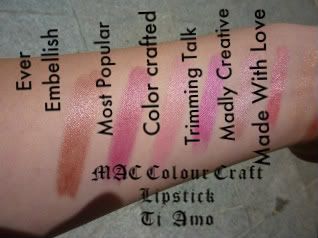 What are you looking to pick up?