Not many people know that Majolica Majorca has a lash curler available. Neither did I, until I bought a whole lot of Majolica Majorca and they gave me 10 as gift with purchases last summer. I believe they release one with each collection as I've seen the spring 2008 one and the summer 2008 one [which is the one I'm reviewing].
For the price [maybe like...three bucks haha!] you get a Limited Edition, [limited amount made], bronze, MJMJ 'Miss Treasure Hunter' [last summer's collection name] lash curler.
Do you think that I got scammed, that the lash curler is fake? I was skeptical too, but the box / Majolica Majorca emblazoned on it makes me think otherwise.
Okay...I'm not exactly sure how to review a lash curler as I never have before, but I will try to compare it to my shu uemura one.
Pictures: [Majolica on top]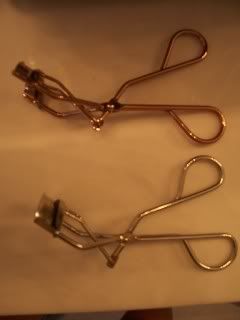 The shu uemura one seems to have more of an angle than the MJMJ one does. It's also wider and has a more shallow curve.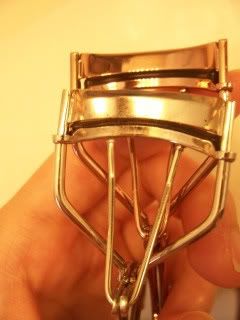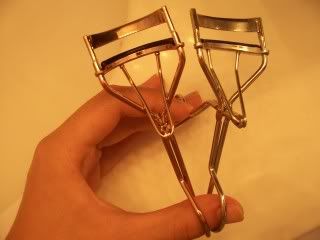 The names embossed on the sides.
Eyes curled by Shu Uemura and Majolica Majorca:
Shu uemura: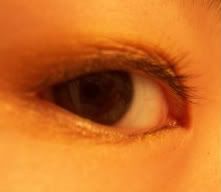 Majolica Majorca: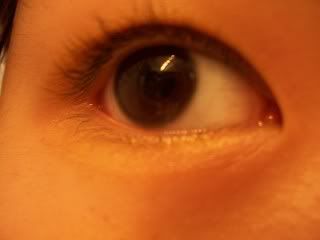 I can't really tell a difference between them! One thing to note though is the way I curl my lashes [not sure how you guys do it]. I press for 10 seconds at the base, then move the curler upwards to the middle of my lashes and press for 5 seconds, and then move the curler to the tip of my lashes and press for another 5 seconds. The shu uemura one has a bit more 'tension', so you don't have to squeeze the handles that hard to curl, but the Majolica Majorca one has alot less--you'd have to press harder.
Shu uemura recommends replacing their curler pads every 6 months [Shiseido sells refills that will fit the shu] and the entire curler every year [but who does that?]. They retail for 18$, and each curl lasts for an entire day.
Majolica Majorca curlers are extremely cheap, but I haven't encountered anywhere that really commercially sells it outside of select Asian drugstores [perhaps ebay?]. They definately retail for below 5USD$ though. Every curl lasts the whole day for me [please bear in mind that my lashes are very easy to curl] when topped with mascara.
I hope this review and comparision helped you all!