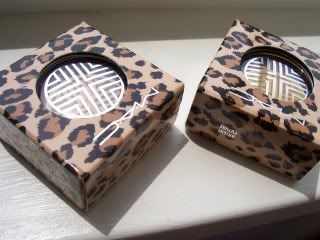 Bright Future shadow was released in the limited edition May 2009 MAC Style Warriors collection. It was getting a whole lot of press because it isn't often that MAC releases a bright color, and in the veluxe pearl formula too! Someone described it as being the color of 'Forever 21 bags', which is probably accurate.
I love the packaging for this collection! It's very apt to 'style warriors', being zebra and leopard print. I wish that the actual eyeshadow pots had leopard print on them though, rather than just being a complimentary olivey bronze. The clear window has a print on it too though.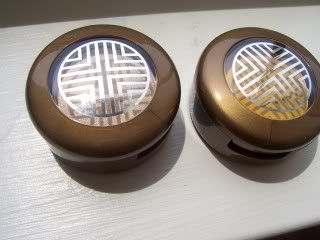 The texture of Bright Future is a bit strange. It's not as buttery and creamy as other veluxe pearls are--it's a little dry. But it's extremely pigmented and with shimmer! Much better than some of MAC's previous collections. Here are comparision swatches: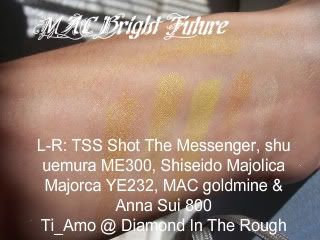 I think the closest color it is to in my collection is Shu uemura ME300, but the shu is less yellow and has more sparkles. The She Space Shot the Messenger is also very close.
Bright Future doesn't show up as a IN YOUR FACE yellow; you'd have to really pack it on. If you haven't layered it, others can tell that it's yellow only when they're really zooming in, otherwise it just looks gold. On that note, it doesn't look chalky when you do layer it.
Like other MAC eyeshadows, this lasts all day without creasing with UDPP under it. Bright Future is the star of Style Warriors collection and a must-have for everyone. You'll pay 14.50$ for it at MAC counters globally.