[next to their color control base for size comparision]
You read that right! Yes, beloved readers, you are getting a sneak peek at the newest shu uemura foundation! It sits in it's throne of simple white plastic, waiting for you to take the cap off and swivel upwards, dab onto your face and blend! It's the GOD of stick foundations, this amazingly pigmented and creamy holy grail waiting to happen! [That means, yes, so pigmented that I can easily see this as being used for stage makeup, with it's lovely creamy satin finish!]
I think the rest of the world [and US online] will be seeing this in roughly six months, as I had seen the Face Architect cream foundation here in Taiwan last summer and it was launched around January if I remember correctly. [For some reason I also want to say October, what the heck?]. And if I am right, that means that we can also be expecting a UV underbase fluid! :D. This retails for 1200NTD, which equals roughly 36.5 USD. Please bear in mind that Taiwan usually gets shu uemura cheaper than Japan or the US.
Also bear in mind that shu uemura only brings a few of it's foundation shades here into Taiwan. This is by no means the full line.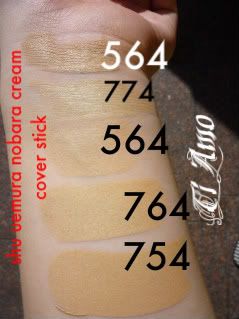 What say you readers?