Shu uemura fall is now on counters in Taiwan, even though the stock is actually quite the mess with a only a few stores that have stock RIGHT NOW and even fewer with the complete collection. [Rolls eyes] Great job Shu for botching up another release.
I must say though that this COMPLETELY makes up for the stupid summer collection [and with special packaging too!]. I totally WANT those gel liners, yellow and turquoise have my name labeled on it!
Okay, the reviews. The gel liners are SO CREAMY and so richly pigmented its insane. Citrine [yellow] has slight shimmer that probably won't show up on the eye, Turquoise has more shimmer [but it still probably won't show up once applied] and Spinel is matte. They are so gorgeous, I keep swatching them every time I go past the counter.They retail for 24USD.
The lipsticks are pretty, but only the BG942 and WN297 are being released in the US. The US also has a color PK300 that Asia doesn't get. But all of these are extremely rich and creamy and pigmented--I have my eye on BG910 which is a bit sheerer in color [BG950S is also sheerer]. WN297 is not as dark as it looks in the tube [almost blackish!] and goes on much more purpley fucshia. One of these sets you back 23USD.
The cream sticks [not sure of the exact product name] are not that creamy, nor that pigmented. My SA said that they are supposed to be used as a base for eyeshadow or can be used alone for a translucent wash of color. They are available in four shades--Blazed Gold and Rich Earth also have some glitter in them. All are appropriately 'autumny'. They lasted a whole afternoon on my arm and didn't rub off on my purse or clothes, which I think is because of their drier texture. These are 700NTD which is about 21USD. Please note that Taiwan gets a bit of a discount on shu uemura and the US price may be slightly higher.
The nail polish is quite bright, a blue-based hot pink and I don't like it on my skintone because it tends towards trashy on me [probably because of the blue undertones]. If you like blue pinks though then a bottle will cost you sixteen bucks. Definetly use two coats and a top coat on it and it will last you quite awhile!
Lastly, the blushes. They are GORGEOUS. SOO pretty. Unique though....no. Probably not. But these are great quality and you get two colors [I think for contouring and regular blush] in the same compact for the price of one. [Wow I sound like an infomercial there--two for the price of one! I wish shu did buy one get one free ;-)]. These retail for 21USD. I will let the pictures speak for themselves as they are accurate! As with all shu blushes, these are buildable, glowy and pigmented. My favorite formula!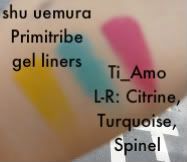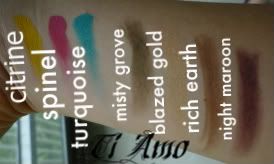 Please also note that there is a new Limited Edition false eyelash available as well.
So, what do you think? Will you be indulging in Shu Primitribe?