Image from ichibankao.com.
FINALLY! I finally got fed up and swatched using a dry tester of 04. Seriously, try replacing your old testers, Lunasol Taiwan counters! Jeez. So I'm sorry for the 2nd pic of craptastic 04 Sapphire. It's that dark, and just about that blue. Will update this post when I finally find a fresh tester.
These beautiful, gemstone shades of liquid eyeliner with loads of shimmer retail for about 28USD, which is pre-tty dang high! However, you do get a good amount for your money. These set fast, do have a tendency to clump in the bottle, and, if you swipe your finger over the dried liquid you do get some shimmer that gets migrated. LOVE these colors though!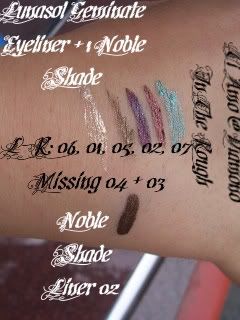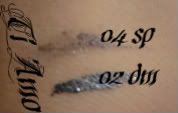 EDIT TO ADD: I mislabeled the gray in the 2nd pic, it's actually 03 DM :) Sorry for any confusion!
So, what do you think? Like or no?