[image from ichibankao].
Gah, I've had the first pic for like 2 weeks, but they didn't have the last two shades so I swatched those during the last weekend. I LOVE THESE. SOOO pigmented, so creamy, *dies* I'm totally hauling soon. Seriously. Even if they are on the pricey side of 720NTD = about 21.8USD compared to a load of other Japanese brands.
GY831 & RD632 were limited edition for the holiday 2008; my counter just had the testers out because they still had some left. Aren't they GORGEOUS? Seriously, wish they were part of the perm line.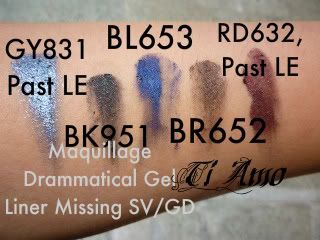 GD855 is definetly more yellow toned but it was a cloudy day when I took these. It's definetly more of a true gold, like Shu uemura's.