[image from ichibankao.com]
Today we are going to take a look at Jill Stuart lipsticks. These retail for 850NTD which is about 26USD, so pretty pricey! They are more sheer than full on pigment, which seems to be popular in Japanese lines, very shiny and come in 19 colors. Beware--these ARE scented with rosey floral and do not seem to dissipate. I would compare these to tinted lipbalms more than lipstick.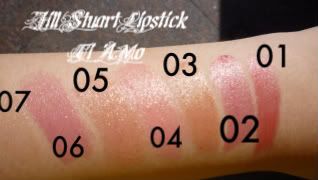 07-10 are pretty much clear on my arm. This is after several swipes--that's how pigmented these are, but those are sheer colors.
07 is a light nude, but of course you can't tell that on my arm...
08 is a light baby pink, but again hard to tell on my arm.
09 has more pigment and is a medium cool leaning pink.
10 is a very frosty light lilac lipstick. I can't see it looking too great honestly...
Keep in mind that while these look very scary in the tube [especially number 1 as a bright scarlet red!] they turn very wearable on the lips.
Are you eying any?