[image from ichibankao.com]
By request of Catherine :) Unfortunately the counter I go to only seems to have the following shadoes, there was no sight of 04, or 06. Weird!
Anyways, the blush. They are pretty sheer, but can easily be layered. For the swatches I took a clump of the powder and rubbed [the SA did NOT look happy with me digging in the pots!!]. I would guess that up to skintones NC30 they would work well, but beyond that I'm not so sure. All of these have shimmer and retail for 1250NTD which is about 38 USD, which is kind of pricey!
-01 is a very pretty blue pink, seems to be more mauvey than 02.
-02 is more blue and lighter than 01.
-03 is a very unique [in Japanese brands] mauvey rose I guess? Very pretty. This one, 07 and 10 are more pigmented.
-05 is an even more unique orangey color. This one tends on the sheerer side, so it's more wearable.
-07 is kind of like 10, but seems to be a warm dusky rose.
-10 is a pinky dusty rose color.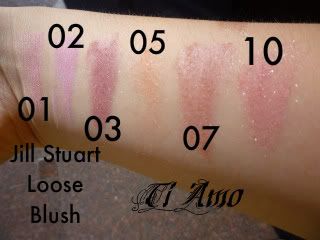 Hope this helps you Catherine :)